Delft is located centrally in the heart of Holland known as the Randstad region, between Rotterdam and The Hague. Delft represents  Europe at its best, with fast connections to anywhere in the world. Both physically, boasting  Amsterdam and Rotterdam The Hague airports in close proximity and countless international railway connections available, as well as in terms of its role in many international knowledge networks, alliances and businesses. Delft's fine infrastructure makes it easily accessible by car and public transport. It is a compact city and all the main locations inside its historic centre are well within walking distance.
Directions to Delft and TU Delft campus
---
By plane
From Amsterdam Airport Schiphol
Amsterdam Airport Schiphol services all major airlines. The train connection from Schiphol to Delft is a 40-60 minute train ride. Trains leave from Schiphol roughly every quarter of an hour.
More information
From Rotterdam The Hague Airport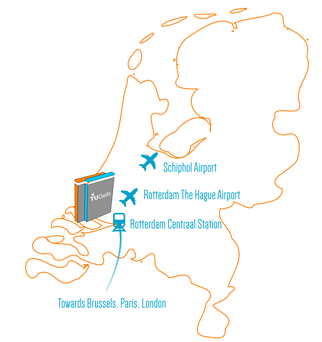 The nearest airport is Rotterdam The Hague Airport. This airport has 40 destinations in Europe, and by its size has a shorter check-in time. From here a bus and train is needed to reach Delft (30-40 minutes). Or take a 15 minute taxi ride to Delft.
More information
---
By public transport
Delft is accessible by train from Paris, Brussels and London. Although the high-speed trains do not stop in Delft, you can get off in either Rotterdam or Den Haag HS and get a connecting train to Delft (10 – 15 minutes). Trains from Germany come via Utrecht CS and Amsterdam CS, both of which are about 50 minutes from Delft on a connecting train.
More information
To travel by public transport you need a so called OV-chipkaart, which you can buy at railway stations, the airport, etc. Before you can use the card you need to load credit first onto the card.
More information
Once in Delft, at Delft Central Station several buses will depart to Delft University roughly every 10 minutes. You can get off at the bus stop TU Aula.
40 direction Rotterdam Centraal
55 direction Zoetermeer
69 direction TU Technopolis via TU
174 direction Rotterdam Noord
More information on buses? Visit the 
9292.nl
 trip planner. Need a taxi? Visit 
Taxi Delfland
 or call +31 (0)15 364 64 43
The Aula is easily accessible by car via the A13, exit Delft/Pijnacker and exit 10 Delft Zuid/TU-wijk. You can find five large parking lots on the campus. The address is Mekelweg 5. You can park behind the building or at the street Christiaan Huygensweg.
More information
Delft Shuttle Service
Delft has a shuttle service running everyday from 10:30 to 17:00. There are several stops around the city, including one at TU Delft library. The day ticket costs € 4,-.
More information